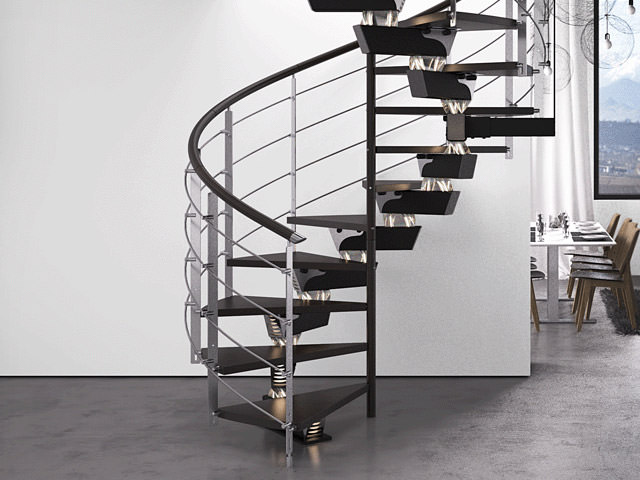 Spiral Knock Design
Express your style!
Steel helical staircase designed by Giugiaro Architettura
to be fully customizable.
Spiral Knock Design is the steel helical staircase that mixes great structural to freedom of customization of both finishes and accessories, signed by Giugiaro Architettura.
Quality and versatility
The structure of the helical staircase Spiral Knock Design is made of steel modules lacquered with epoxy paints which guarantee better resistance to wear and tear. The modules are interconnected via a patented anchoring system that provides greater strength compared to traditional prefabricated helical staircases. The adjustment of the rise can be done through a series of polycarbonate spacers which can be modulated according to the requirements, allowing Spiral Knock Design to adapt to any type of environment.
The steps are made of solid finger joint beech wood. They are 4 cm thick and are connected to the structure using special supports. The handrail can be made both in solid beech wood, same finishing as the steps, or in stainless steel.
There is also the possibility to choose among many models of railings for indoor stairs, of various colors and finishes, thus multiplying the possibilities to design a steel staircase that reflects your own style.
Modularity evolves
Thanks to Rintal Stair System, the innovative design system developed in collaboration with Giugiaro Architettura, it is possible to completely customize the look of the stairs by choosing accessories that push helical stairs beyond modularity, making them become real furnishing elements.
The range of accessories to choose from is quite large: stainless steel covers (in two versions – Line and Wave) to be affixed to the front of the structure modules, a LED lighting system integrated into the structure which creates a perfect synthesis between functionality, safety and aesthetics, and adhesives to stick to the sides of the structures which can be changed over time in case of renovation in the décor.
In this way, the accessories become ways to express your own taste, unlike other helical staircases that remain the same in time, and are unable to cope with the changes in the tastes and lifestyles of the owners.
Great solidity and elegance

Opportunity to customize all elements

Designed by Giugiaro Architettura
Steps and handrail
Varnished beech wood – standard varnishes (water-based, non-toxic varnish).
Lacquered beech wood (microsphere painting to improve resistance to abrasion, UV rays and cold liquids).
Notes:
The finishes of step and handrail are always coordinated.
Other types of wood are available upon request.
---
Structure
Steel painted with oven-dried epoxy powders for greater resistance to wear.
Measurements
Diameter (square or round hole):
135, 145, 155, 165, 175, 185, 195 cm
Rise:
adjustable, from 21 to 23.5 cm