Since 1974, has been a leader in the field of interior staircase design in Italy and the world.
Over the years, we have grown through innovative projects using technology and design excellence. Today, we remain the company that offers the widest range of products related to the "rising world."
Our collection includes open stairs, spiral staircases, concrete stairs, metal stairs, stairs for small spaces and attic stairs.
Moreover, in addition to interior and exterior stairs, we design and build wood or glass lofts and coatings for concrete staircases and railings.
Open staircases have always connect the main areas of the house, giving style and character and becoming real protagonists of the rooms they are in.
Rintal's spiral staircases are available in various materials (wood, iron, glass), are adaptable to different environments (indoor, outdoor) and […]
To create space where there none: this is the philosophy behind these new simple structures. Basic but complete, they aim, as well as to […]
Rintal's helical staircases, thanks to their shape, decorate the space with sinuous elegance and lightness. Compared to spiral staircases, they are more comfortable to walk on thanks to the absence of a central pole.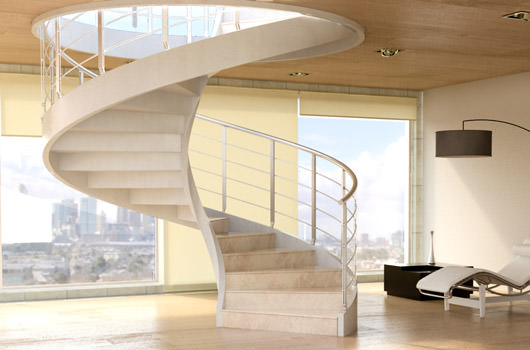 Rintal's helical staircases in reinforced concrete have a harmonious shape and provide a unique structural strength for both indoor and outdoor use. They can be customized with surface smoothing or coated to make your concrete staircase even more exclusive.
Rintal's retractable ladders are ideal to access confined spaces in your house: not only attics and lofts but also smaller rooms that require access from the side walls, roofs or terraces. Functionality and practicality in one product.