Trio 180°
Great design for small spaces
Space-saving stairs with a modern and interesting design
created by Rintal and Giugiaro Architettura for small spaces.
Trio 180° is the space-saving staircase with a prestigious design, born from the collaboration between Rintal and Giugiaro Architettura to enhance small spaces.
It takes up half the space of a spiral staircase
The modern and attractive design makes it unique among indoor space-saving stairs which can rarely boast of such a successful mix between functionality and aesthetics.
Trio 180° in fact takes up only half the space compared to prefabricated indoor stairs, helical or spiral, allowing you to reach the upper floors in half the space and without sacrificing design. Its special shape allows you not only to use any architectural space available but also to turn it into a beautiful and innovative design solution. This is possible thanks to the particular shape of the steps that reduce the tread without reducing the support of the foot surface. Furthermore, their sinuous and undulating shapes follow the embrace of the spiral structure, creating a composition of great modernity and aesthetic harmony that enhances the surrounding environment.
Design and functionality
The mini spiral staircase Trio 180° is made of a central pole to which the steps are attached. The pole is in black painted steel, matching the handrail in Moplen and the railing Tube. The steps are made of solid finger joint beech wood and are available in various finishes. They can all be painted the same color, choosing between the natural tones, or turned into the two-color version, choosing a color sample to alternate with black, always present to maintain chromatic harmony.
No other model of space-saving stairs for mezzanines offers the same versatility of design: the exclusive design of Trio 180°, thanks to Rintal Stair System, can be declined in several colors to make it consistent with the environment in which it is inserted.
Great design by Giugiaro Architettura
A solution not only practical and sturdy, but also a high aesthetic level which allows you to furnish even small apartments with high quality design. With Trio 180°, a mini staircase for small spaces becomes a furnishing element in rooms with a contemporary décor, able to satisfy all the needs related to functionality as well as fulfilling the wishes of the designer.
It allows you to use up half the space compared to traditional spiral staircases
The shape of the steps allows for reduced space yet offers good foot support
Two-colored steps available
Ideal for small spaces that require a design staircase
Customizable colors
Design by Giugiaro Architettura
Steps
Varnished beech wood – standard varnishes (water-based, non-toxic varnish).
Lacquered beech wood (microsphere painting to improve resistance to abrasion, UV rays and cold liquids).
In the two-color version the sample step is always alternated to a black-lacquered step.
---
Structure
Steel painted with oven-dried epoxy powders for greater resistance to wear.
---
Railings
Finishes for railings can be found in the related product sheets.
Measurements
Diameter:
130, 140, 150, 160, 170, 180 cm
Rise:
Adjustable from 19 to 24 cm
The square spiral staircase ideal to use space in the corners.
Indispensable in extreme situations, Mini Plus is the ladder created to offers the best solution to reach small spaces in a comfortable and safe way. [...]
Rintal's wooden mezzanine was created to meet the needs of those who want to increase the square footage of their property by using its heights [...]
4P is the retractable ladder designed to connect secondary rooms such as attics or lofts to the main rooms of the house easily and safely [...]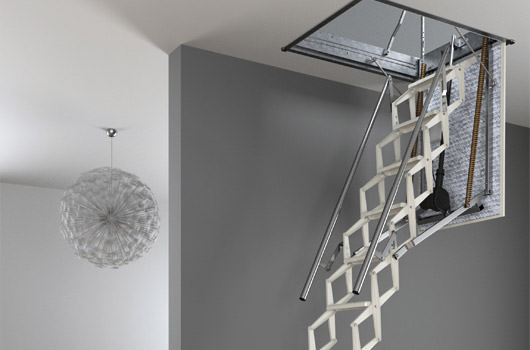 Escalmatic is an innovative motor-powered retractable ladder designed to reach secondary rooms, attics, or lofts in a comfortable and safe. [...]