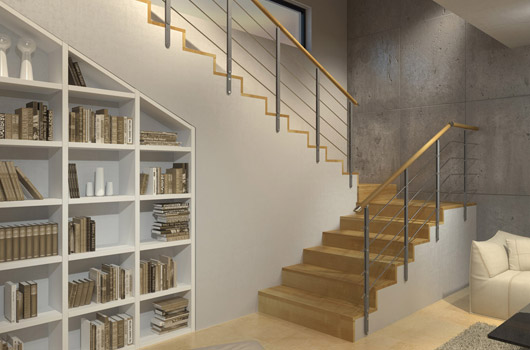 Minimal
Minimal purity
Minimal is the steel railing
Minimal is a steel railing designed along essential and rigorous lines which recall the modern style in its purity. The extreme simplicity of its shape and the ability to choose different finishes make it suitable for any environment.
Simple and linear design
The pillars of Minimal, installed exclusively indoors, are composed of two coupled blades made of painted steel (or stainless steel 304 on request) with epoxy-polyester powder dried at high temperatures. This allows a better quality and a higher resistance over time compared to most of the iron railings on the market.
The pillars are connected to each other by 4 hard linkers in stainless steel with a satin-finish, 12mm in diameter. The handrail, on the other hand, is fixed through the use of specific bolts which allow you to adjust the inclination, and can be made of wood (coordinated to the stairs or the coating) or steel, so as to create a stainless steel railing.
Various customization options
Minimal offers the possibility to choose the finish of the pillars and of the handrail with the greatest versatility. From standard painted accessories, to those in sample, all the way to stainless steel – adapting the steel railing to the environment in every detail will be quick and easy.
Great versatility due to different anchoring systems
Minimal allows you to create different types of railings for indoor stairs by giving the customer the greatest freedom of choice thanks to the versatility of the technical solutions adopted. In fact, the different anchoring methods available allow you to set it up both on modular and on brickwork staircases.
In the first case, Minimal can be anchored on the step, choosing between the traditional T-shaped bracket or a more exclusive fixing with a rounded design, or it can be fixed on the masonry side so as to leave the maximum space to pass.
In the second case, Minimal can be fixed both to the step by means of an L-bracket to the structure of the staircase.
It can be used even as a balustrade
The flexibility offered by the anchoring solutions is not limited only to the railings. Minimal can in fact be used with the same ease as a balustrade, thus creating a stylistic continuity between railing and parapet. You can also customize the Minimal balustrade with a glass panel inserted between the pillars which allows you to close the lower part, thus increasing safety.
Anchoring on brickwork stairs