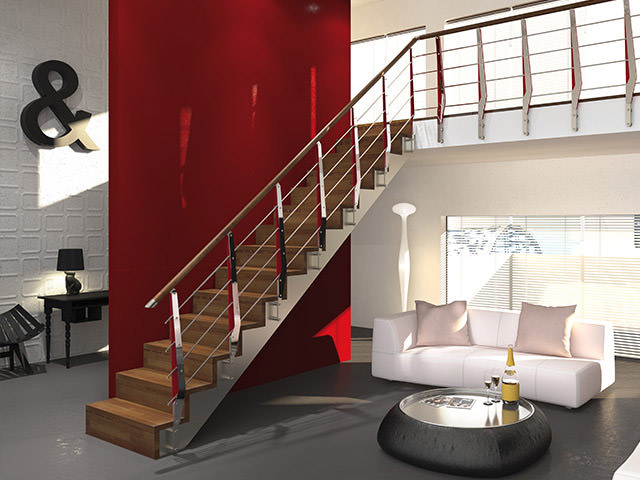 Multiblade
A mix of shake and colors
Design railing by Giugiaro Architettura that
allows many combinations of shapes and colors
for endless customization options.
Multiblade is the design railing that revolutionizes the approach to the design of railings thanks to a new way of combining the elements that compose it. What makes it different from other popular iron railings is in fact is the possibility of combining different shapes and colors to create an extremely personal aesthetic language which makes Multiblade the characterizing element of every indoor environment.
Great ways of customizing it
Multiblade is a modern railing designed by Giugiaro Architettura and exclusively meant for indoor installations. The posts are made of two blades in painted steel, made in different shapes and finishes that can be combined and matched according to taste. In order to guide the final project of the railing, we have prepared a general diagram for combinations between the shapes and colors available. The results are 4 different versions divided into 2 groups. The first includes the posts with the same shape of blades – variations C1-C1 and R2-R2 – while the second includes the posts with blades shaped differently – variations C1-C2 and R2-R1.
Great freedom to play with colors
Within this compositional scheme you can then play with color combinations. In the C1-C1 and R2-R2 combinations the blades have the same color, while in the C1-C2 and R2-R1 variations it is instead possible to combine different colors. The result is a modern indoor railing absolutely unique and personal.
The posts are connected by four rigid linkers with a diameter of 12 mm in brushed stainless steel. The handrail, anchored with bolts that allow you to adjust the incline, can be made in wood or steel to help create many shades and effects.
Versatility and design
Not always railings and design are combined with versatility. It is not so, however, for Multiblade which it is available for installations both on brickwork and modular staircases.
In the first case it is possible to anchor Multiblade both on the step and on the side of the floor, thanks to the available hardware, so as to fully satisfy the architectural requirements of the staircase.
In the second case, the posts are fixed underneath the step by means of an L-shaped bracket in case of staircase with central structure, or directly on the stringer with a rectilinear bracket in case of a staircase with side structure. The same hardware can be used to turn Multiblade into a parapet for balconies and mezzanines.
Design by Giugiaro Architettura
Once again the style of Giugiaro Architettura emerges as a point of excellence, giving to an architectural element, generally static, the ability to mutate and transform.
Anchoring on brickwork stairs