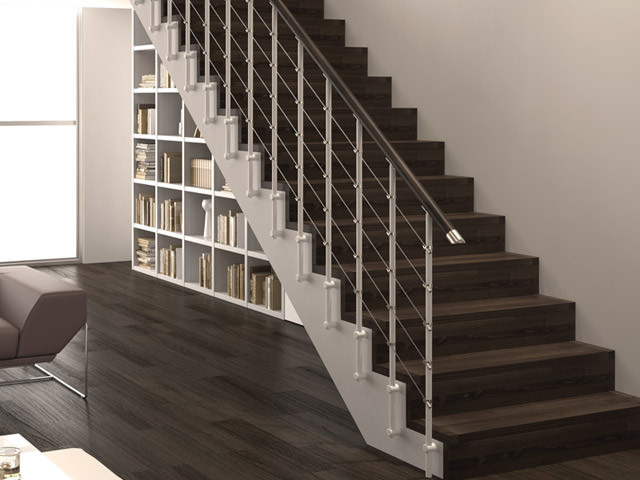 Tube
The essence of linearity
An iron railing with a simple
and linear style, ideal for all staircases.
Tube is the iron railing whose simplicity reaches a radical aesthetic dimension. It is a mix of simple lines, without superfluous elements, and able to enhance the features of any room or staircase.
Simple and linear design
The posts that make up the indoor railing Tube consist of circular columns with a diameter of 25 mm made of painted steel, available in various finishes. Individual posts are connected to each other by stainless steel cables while the handrail, available in solid finger joint beech wood, is fixed via  special tops that allow you to adjust its slope.
Great possibilities of customization
Compared to other popular iron railings, Tube offers various customization options to fit perfectly in any room.
It is available in three different configurations that define its aesthetic and installation features. The first includes the sole use of poles without any type of horizontal connection. The second is characterized by the inclusion of horizontal steel cables that connect the various posts. Finally, the third option involves the use of crossed wires between one post and the other. Adding wires makes it possible to increase the distance of the posts without compromising safety, thus creating an open and airy railing for indoor stairs.
Numerous finishes available
Even when it comes to finishes, Tube is very versatile railing for indoor stairs. The posts can be made in various finishes, from painted with epoxy-polyester powders dried at high temperatures which improve resistance over time, to chromates.
The handrail too is customizable as far as the finishes are concerned so as to coordinate it better to the coating or to the steps.
Suitable to all architectural styles
The technical solutions adopted to anchor Tube allow you to create different variants of railings for indoor stairs. Tube can, in fact, be installed both on brickwork and on modular stairs. In both cases it is possible to choose whether to anchor it directly to the step, on the side and to the brickwork when it comes to masonry stairs, or on the side or underneath the step when it comes to modular stairs.
Possible to use even as balustrade
The same anchoring components allow you to use Tube even as a balustrade to create parapets or a railing for mezzanines depending on your needs and on the conformation of the room. This makes it also possible to match the parapet and the railing, thus creating stylistic coherence between these two elements.
Anchoring on brickwork stairs