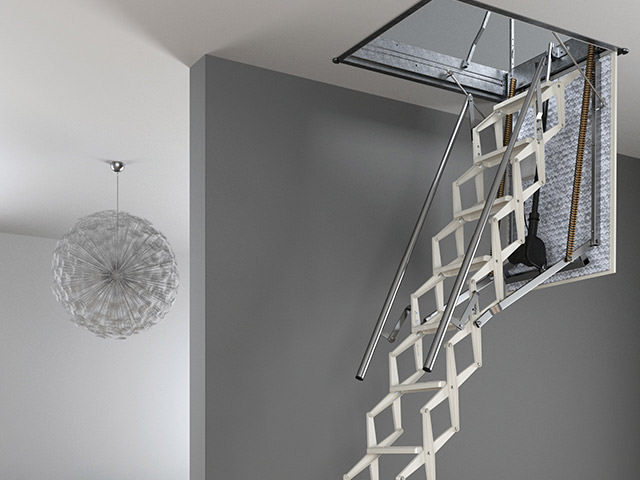 Escalmatic
Strong and handy
Retractable motor-powered ladder,
that allows you to save energy thank to insulation.
Escalmatic is an innovative motor-powered retractable ladder designed to reach secondary rooms, attics, or lofts in a comfortable and safe, and without wasting energy.
Motor-powered
The first element that characterizes this retractable ladder is the presence of an electric device for opening and closing. The 220 V engine that is attached to Escalmatic allows you to open and close the ladder automatically, within seconds and without any effort.
The signal is given via the infrared remote control included or via a wall control panel, available as an option.
Insulated
The second great element of innovation compared to classic vertical folding ladders is the double insulation system that prevents the air from circulating through the hole and the trap door, which fully separates the rooms and reduces the loss of heat and energy.
The first insulation tool is located in the trapdoor, made of 15-cm thick poplar plywood, which has  minimum formaldehyde emissions (class E1, UNI EN 13986:2005). This is coated with high thermal insulation material which blocks recirculation of hot and cold air.
This can also be integrated with a special insulating cap (Termocover), to be placed on the ladder to increase the overall thermal insulation value.
The use of both systems ensures an insulation value of U = 1.1 W/m2K.
Safe
Another aspect on which we focused compared to the most popular electric ladders is safety. Escalmatic includes 11 steps, made of molded 15/10 steel sheets, painted white, and a mobile structure with shock-absorbing springs.
It is equipped with a double telescopic handrail and robust handles that, easy to grip, make the exit from the trapdoor easier and provide maximum comfort and safety in use.
Strong
Escalmatic electric retractable ladder has been tested to withstand up to 260 kg and is compliant to legal standards. It has also passed all tests concerning hold, resistance and torsion required for a motor-powered ladder in compliance with la UNI EN 14975:2007.
Adj è la scala retrattile pratica e sicura, ideale per collegare le zone secondarie della casa, come solai, soffitte e soppalchi, agli ambienti principali. [...]
4P is the retractable ladder designed to connect secondary rooms such as attics or lofts to the main rooms of the house easily and safely [...]