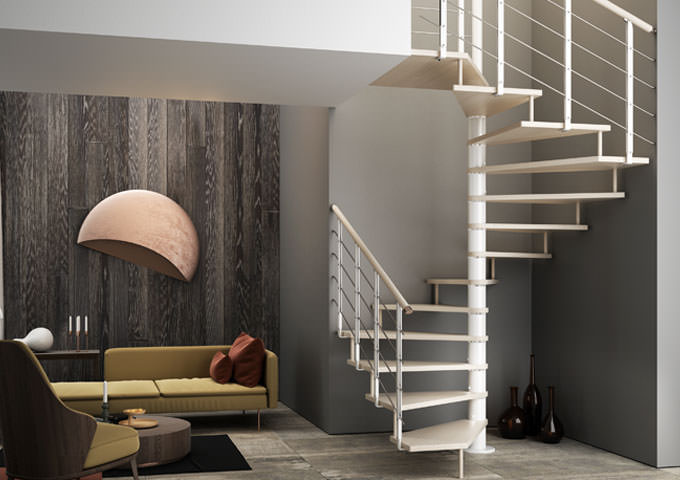 Tekla Design
Double versatility
The square spiral staircase
ideal to use space in the corners.
Tekla is the square spiral staircase designed to address the need to insert a staircase in square spaces or in corner positions, with a versatile, attractive and customizable design.
Quality materials
Tekla is a spiral staircase made of a central pole in oven-painted metal with epoxy dyes which ensure a more polished look and greater durability. The steps are made of solid finger joint beech wood and can be painted both with non-toxic, water-based paints which enhance the quality of the wood, and with lacquers containing microspheres which offer greater resistance to abrasion, UV rays and cold liquids compared to the most common indoor spiral staircases.
Numerous finishes available
The shades available rang from standard transparent to opaque all the way to samples, to ensure a high level of customization. You can also cover the central pole with wooden modules in order to create uniformity of material and total chromatic coherence.
Ideal for square spaces or corners
What sets Tekla apart from most spiral stairs is the design of its base. Usually spiral staircases are inscribed in a circle but Tekla instead id designed with a square base to fill square spaces or corners perfectly. This aspect makes it an extremely versatile product, if not indispensable, in cases where the intended place of installation is square or the staircase is to be positioned between two walls.
Versatile even in small spaces
To increase the versatility of this square staircase you can also adjust the rise even during the installation phase so as to adapt it to the characteristics of the compartment it is intended for without problems.
The particular shape of Tekla allows you to realize spiral staircases of a reduced size. The diameter may in fact vary from a minimum of 105 cm – ideal for small spaces – up to a maximum of 180 cm.
Functional design
Compared to most square stairs that mainly respond to functional requirements, Tekla has been designed with a particular attention to design. It is possible to choose different railing models that allow you to customize the composition from more simple ones like Tube all the way to design models like Minimal and Leaf (the latter designed by Giugiaro Architettura). Creating the most appropriate style to your home will not be a problem.
Endless possibilities to customize
Great solidity
Varnished beech wood – standard varnishes (water-based, non-toxic varnish).
Lacquered beech wood (microsphere painting to improve resistance to abrasion, UV rays and cold liquids).
Notes:
The finishes of step and handrail are always coordinated.
Other types of wood are available upon request.
---
Structure
Steel painted with oven-dried epoxy powders for greater resistance to wear.
Measurements
Diameter:
105, 120, 130, 140, 150, 160, 170, 180 cm
Rise:
adjustable, from 21 to 24 cm
Tread:
30° angle of the steps regardless of geometry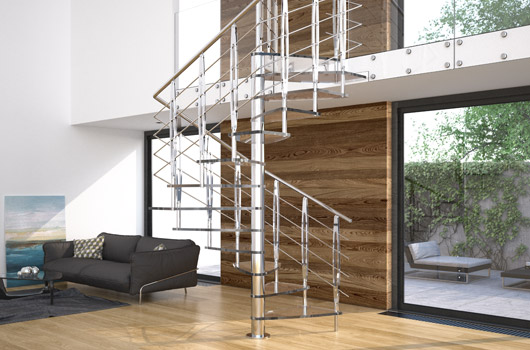 Tekla Glass is the square staircase in steel and glass designed to fit into square spaces in contemporary [...]