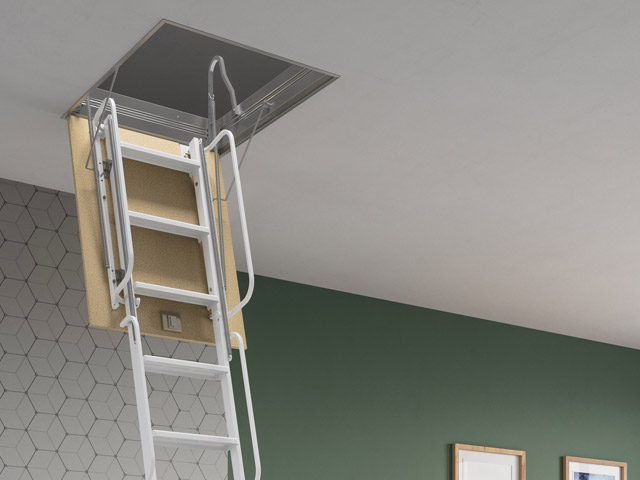 4P
Practical and safe
A sturdy and safe retractable ladder,
the ideal way to connect all minor rooms in your house
4P is the retractable ladder designed to connect secondary rooms such as attics or lofts to the main rooms of the house easily and safely.
Great durability thanks to the rigid structure
The 4P retractable ladder consists of 10 steps made of pressed steel 15/10, a mobile structure made of tubular steel measuring 50 x 20 mm, painted black, and shock-absorbing springs for easy opening and closing.
The rigid steel ramps, which fold into four, reduce the flexibility and provide greater sturdiness compared to other vertical retractable stairs.
Quality details
The box is made of 10/10 galvanized steel sheets while the panel of the trapdoor is made of high-grade poplar plywood (with a thickness of 15 mm) and certified for minimum formaldehyde emission  according to European standards (Class E1; law UNI EN 13986:2005).
Double handrail for greater safety
Differently from other retractable stairs for lofts, 4P offers, in addition to handles to facilitate the exit on the upper floor, also a double fixed handrail (in models where the box measures 70 cm in width), on both sides, right and left, to increase safety.
In the models with the box measuring 50 cm and 60 cm there is instead only one handrail on the right side, so as to make the ladder easier to climb.
Different accessories for every need
To meet all needs and adapt to each type of room, 4P offers various accessories. The trapdoor panel, for example, can be equipped with insulation system and a special "Termocover" hood which reduces energy loss to a minimum.
In addition, the 4P retractable ladder for attics is offered even in light gray (RAL 7035).
Compliant with all related laws
4P complies with all legal guarantees and has passed all tests examining capacity, resistance and torsion, making it fully compliant with European standard laws EN 14975:2007.
It is hard to find other folding stairs cheaper than 4P, which remains the ultimate synthesis between quality, safety and practicality.