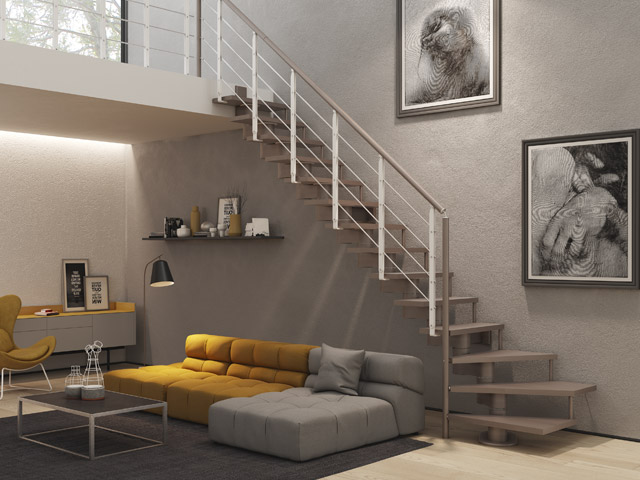 Gamma
A new way to see wood
Free-standing wooden staircase that mixes flexibility of shape
, great quality of the materials, and a very advantageous price.
Gamma is a free-standing wooden staircase designed to maximize the aesthetic and structural qualities of this popular material without sacrificing flexibility and creativity, the possibility of a low price, and a touch of originality.
Great versatility and originality
What sets Gamma apart from classic wooden stairs is the modular design of the product, which gives it a modern soul, bringing it directly into the reality of the requirements of contemporary design. Flexibility of the lines and adaptability to different needs of design and features of the house make it an extremely versatile staircase, capable of turning one of the most classic and used materials in the production of staircases like wood into a modern and edgy material.
Great value for price
The materials chosen to produce Gamma have been selected with great care and attention in order to create a high quality product at an affordable cost when compared to most wooden indoor stairs. For the steps we chose finger joint solid beech wood, 4 cm thick. The spacers are made of transparent polycarbonate, while the hardware of the different railings are perfectly harmonized in the composition.
Harmonious and elegant design
Of the same material of the steps are the modules that make up the structure of Gamma, which sets itself apart from the most common free-standing stairs thanks to the distinctive design of the modules that compose it. This is a detail that gives a touch of originality to the entire product and creates a design featuring smooth and continuous lines that are well suited to different environments, creating an harmonious and elegant effect.
Maximum freedom to interpret your style
As regards to customization, Gamma demonstrates itself to be a free-standing staircase with an eclectic character. Its clean lines lend themselves easily to be understood and characterized using the many available options. Different wood colors and different interchangeable railing models offer a lot of freedom to play with shapes and colors to create your own style: classic and timeless with dark tints and railings with simple lines or modern and minimal with light colors and more contemporary railings.
Whatever style you choose, Gamma is able to interpret it simply and naturally, a feature that confirms its versatility and makes it a great choice for renovation projects and tender building specifications.
Maximum flexibility in building thanks to the modular design
Quality materials at an affordable price.
Harmonious and elegant lines
Various models of railings available
Numerous finishes from which to choose
Eclectic style: it is easy to interpret different styles – classic, modern, or contemporary – with a staircase like Gamma
Steps, structure and handrail
Varnished beech wood – standard varnishes (water-based, non-toxic varnish).
Lacquered beech wood (microsphere painting to improve resistance to abrasion, UV rays and cold liquids).
Notes:
The finishes of step and handrail are always coordinated.
Other types of wood are available upon request.
---
Railings
Finishes for railings can be found in the related product sheets.
Possible configurations
Measurements
Width:
60, 65, 70, 75, 80, 85, 90, 95, 100 cm
Rise:
adjustable, from 17 to 23 cm, standard rise: 18.6 cm.
Tread:
Possibility to choose between 22.5 or 25 cm.
Turns
Can be installed both on the staircase and on the brickwork.
Spiral Gamma is the free-standing helical staircase in wood with quality materials, a great flexibility [...]