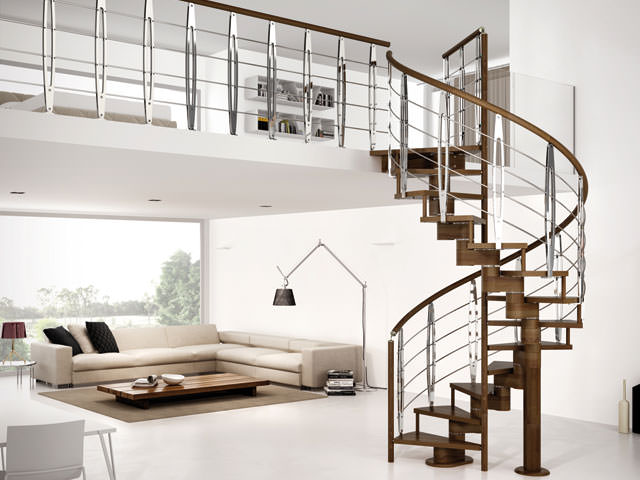 Gamma
Style and quality at the right price
Spiral Gamma is the free-standing helical staircase in wood that links
the innate structural and aesthetic qualities of this material to a great
flexibility, low costs and a very original design.
Spiral Gamma is the free-standing helical staircase in wood that links the innate structural and aesthetic qualities of this material to a great flexibility, low costs and a very original design.
Quality materials and customization
The steps of the helical staircase are made of solid finger joint beech wood (4 cm thick), as is the structure that support them, presenting a unique and original look and harmonious design that enriches different environments.
The spacers which adjust the rise of the modular helical staircase are made of transparent polycarbonate.
The various models of railings from which you can choose to complete your staircase ultimately provide the ability to customize the look of the entire composition.
Compared to other spiral staircases, Spiral Gamma offers different possibilities of being customized according to your taste: not only is it possible to dye the wood, choosing between different shades, but above all to create countless combinations through the choice of one of the railings proposed, each of which offer many options when it comes to color and material.
Suitable to all styles
The soft helical shape of Spiral Gamma already gives the basic model its own peculiarities, whether this is subsequently declined towards more classical versions through the combination with a more traditional railing, or whether you choose a more modern or minimal look.
The modular design of the project, which also guarantees a wide possibility of adapting the helical staircase to rooms of different types and sizes, and the careful choice of materials made available at an affordable price, set Spiral Gamma apart from other indoor stairs.
Thanks to these features and its clean lines, Spiral Gamma is able to interpret any style, matching each combination well, to create new visual effects. This flexibility was designed to accommodate the intrinsic features of a material such as wood which, despite the its apparent simplicity, is actually able to enhance every choice and every combination.
Great versatility and solidity.

Possibility to customize the structure.

Low costs.
Steps, structure and handrail
Varnished beech wood – standard varnishes (water-based, non-toxic varnish).
Lacquered beech wood (microsphere painting to improve resistance to abrasion, UV rays and cold liquids).
Notes:
The finishes of step and handrail are always coordinated.
Other types of wood are available upon request.
---
Railings
Finishes for railings can be found in the related product sheets.
Measurements
Diameter:
120, 130, 140, 150, 160, 170, 180, 190, 200 cm (round or square holes)
Rise:
Adjustable, from 21.5 to 23 cm