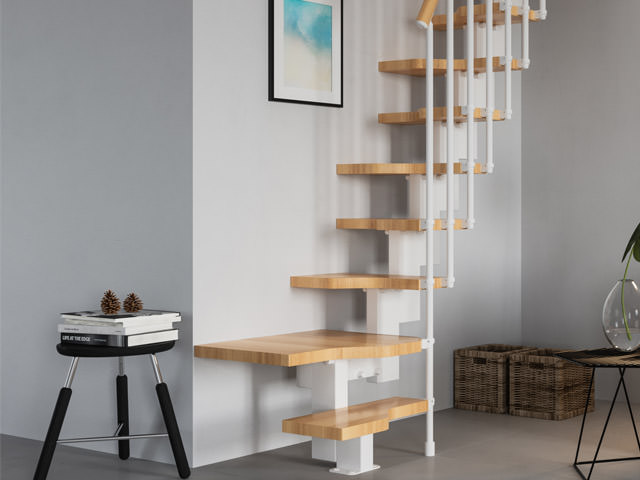 Mini Plus
Mini even when it comes to the price
Ladder designed to connect
using all space at your disposal
Mini Plus is the ladder created by Rintal in order to connect any type of environment even in very small spaces where it would be impossible to install a normal open staircase.
A small size but a high performance
What makes Mini Plus a space-saving indoor ladder indispensable in all those situations where space is minimal is its truly reduced size. With Mini it is possible to fill a space of 2.90 meters with a floor space of 1.5 meters, all without giving up comfort, with quality materials and a very low price.
Staggered steps for a greater bearing surface
One of the technical details that gives it much of its functional value compared to other popular prefabricated indoor stairs is the particular shape of the steps made of solid finger joint beech wood.
A particular molding, in fact, allows to reduce to a minimum the overall size without affecting the tread surface, making Mini Plus a perfect staircase with staggered steps.
Greater comfort due to the landing
You can also make this space-saving ladder even more comfortable by installing a landing which provides a greater bearing surface and allows you to create L- and U-shaped configurations, increasing the set-up possibilities to meet architectural needs.
Adaptable to all architectural needs
The structure is composed of steel modules, adjustable when it comes to elevation, to allow adapting Mini to every situation, making it perfect as mini ladder for mezzanines. The railing is made up of vertical columns in painted metal and anchored to the steps with special joints and to the handrail with swivel tops.
Various color options
The need to adapt to small spaces does not necessarily mean having to give up the possibility to customize your staircase. Mini Plus offers numerous finishes for wood ranging from transparent, in which the wood is at the forefront, and lacquered. The same can be said for the colors of the structure that always match the railing, all at low prices.
Indispensable in extreme situations, Mini Plus offers the best solution to reach small spaces in a comfortable and safe way, and with excellent value for money.
Small size but excellent performance.

Staggered steps for greater comfort.

Optional landing.

Great adaptability thanks to its modular structure.

Various color options.

Great value for money.
Steps and handrail
Varnished beech wood – standard varnishes (water-based, non-toxic varnish).
Lacquered beech wood (microsphere painting to improve resistance to abrasion, UV rays and cold liquids).
Notes:
The finishes of step and handrail are always coordinated.
Other types of wood are available upon request.
---
Structure
Steel painted with oven-dried epoxy powders for greater resistance to wear.
---
Railings
Steel painted with oven-dried epoxy powders for greater resistance to wear.
Possible configurations
Measurements
Width:
Rise:
adjustable, from 20 to 24 cm, first rise fixed at 21 cm
Turns
Trio 180° is the space-saving staircase with a prestigious design, born from the collaboration between Rintal and Giugiaro Architettura [...]
Adj è la scala retrattile pratica e sicura, ideale per collegare le zone secondarie della casa, come solai, soffitte e soppalchi, agli ambienti principali. [...]
4P is the retractable ladder designed to connect secondary rooms such as attics or lofts to the main rooms of the house easily and safely [...]