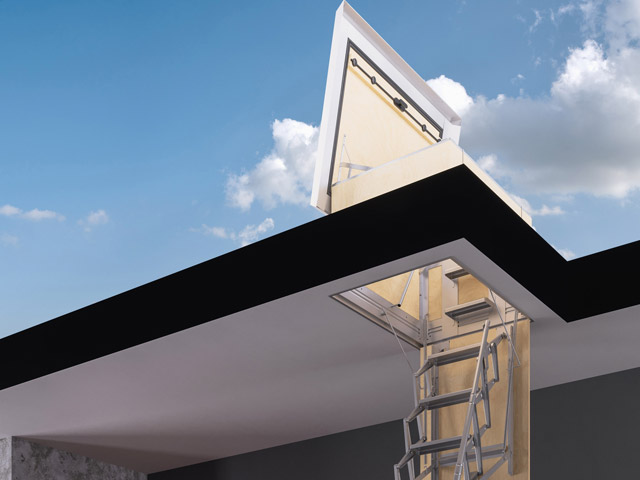 SKY
A mix of quality and safety
Foldable ladder both safe and functional,
perfect to reach roofs and attics.
Sky is the foldable ladder ideal to access roofs or floors outside the house safely.
Details are what make the difference
The foldable ladder Sky is made of 11 steps made of molded 15/10 galvanized metal, cushioning springs that facilitate the opening and closing, and a handrail on the right side of the ladder to make climbing up and down easier.
The frame is made of 10/10 galvanized steel that makes it particularly resistant to atmospheric agents and temperature changes. Internally it is made of choice coated poplar plywood (minimum frame height is 60 cm).
The top cover is made from a plywood panel (15 mm) with minimum formaldehyde emission according to European standards (class E1, UNI EN 13986:2005) coated in galvanized steel (1 mm thick) to withstand sudden temperature changes and corrosion.
Customizable with various accessories
Sky can be customized by insulating the top cover, the closing trap door and the walls of the frame, so as to reduce the hot-cold air circulation and prevent the dispersion of energy.
It is also possible to make the retractable ladder even more comfortable and safe by adding a handrail on the left side of the ladder and by choosing the motorized version (available only in the white painted version), allowing you to use the ladder safely and without any effort.
Compliant with current legislation
Sky complies with the warranties established by the law and has been subjected, via sampling, by a certified body to all required tests regarding strength and torsion according to European standards, so as to comply with the UNI EN 14975:2007.
Great resistance to temperature changes.

Very practical thanks to the lock.

Solid and resistant, compliant with the law.

Telescopic handrail to improve safety in climbing up and down.

Possibility to insulate to reduce energy dispersion.

Motorized version available.