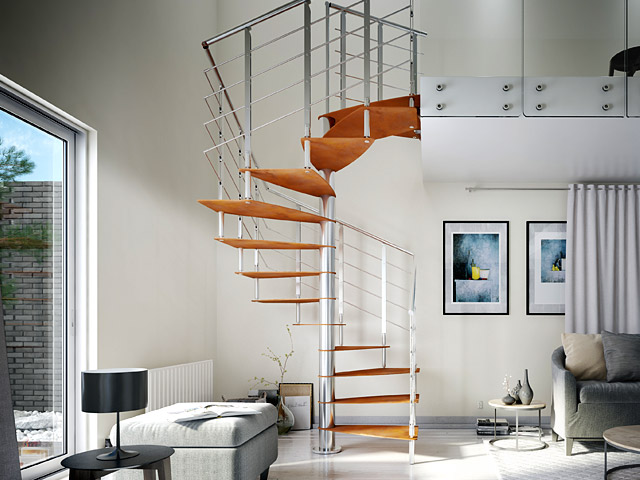 Tekla Metal
Double design
The square staircase in iron
that revolutionizes the rules for traditional spiral staircases.
Tekla Metal is the square iron staircase designed for rooms with an industrial and metropolitan style.
Unlike other indoor spiral stairs, Tekla Metal in fact presents a contemporary look, which is derived from the various elements that characterize it.
The steps, made of 10 mm thick metal, feature more rounded lines compared to other square spiral staircases. The railing, on the other hand, is anchored instead of at the side, directly above the step, making this a distinctive detail compared to other indoor stairs.
Finally, what makes Tekla Metal different from other iron stairs is the structure made of AISI 304 stainless steel and declinable in two versions: stainless steel with a satin finish for those who enjoy a more discreet look, or polished stainless steel for a flashier effect.
Exclusive finishes for a unique staircase
To make Tekla Metal even more distinctive from other modern indoor stairs we have created two exclusive finishes: "Corten Look" which emulates the hue of weathering steel, and "Graphite" which has a color between gray and black, perfect for more sober and minimal décor.
Finally, as with other square spiral staircases, there are various measurements to choose from (diameters from 120 to 180 cm) in order to install Tekla Metal in any type of space, even the smallest, always adding value to the room in which it is placed.
Minimal look

Great solidity

Ideal for square spaces or corners

Versatile even in small spaces

Various models of railing available
Steps
Steel painted with oven-dried epoxy powders for greater resistance to wear.
---
Structure and handrail
AISI 304 stainless steel for indoors.
---
Railings
AISI 304 stainless steel or chromed steel
Measurements
Diameter:
120, 130, 140, 150, 160, 170, 180 cm
Rise:
adjustable, from 21 to 24 cm