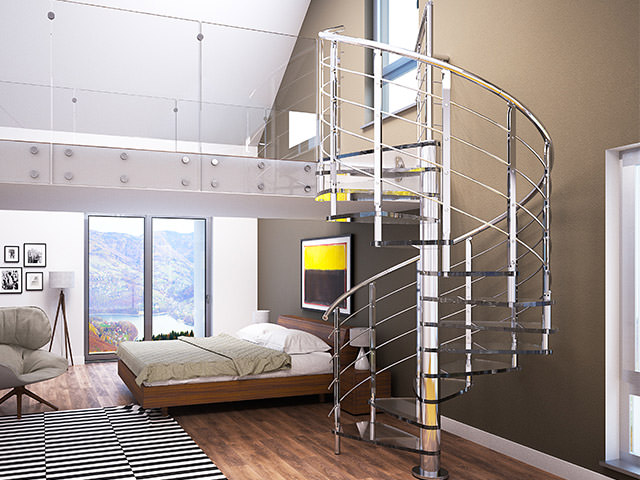 Brillia
Exclusive transparency
Glass spiral staircase destined to elegant and exclusive rooms
Brillia is the glass spiral staircase that revolutionizes the conventional idea of spiral staircases by mixing practicality and beauty through the combination of the purity of stainless steel and the lightness of glass, turning the staircase into part of the décor.
Exclusive material
Brillia's structure is made entirely in stainless steel, polished or with a satin finish. The steps are made of laminated glass, available in the clear or extra-clear versions.
In addition you can also choose to have the steps in finger joint solid beech wood, choosing from a variety of finishes available, to create a spiral staircase with a warmer feel than that offered by the version with glass steps.
The final customization then includes the choice among the many railings available for indoor stairs, which will be fixed directly above the step.
Glamorous and unique
Unlike other staircases, Brillia is a modern spiral staircase with luxurious lines, perfect to add a prestigious touch to contemporary settings that are enhanced by the play of transparencies and reflections this staircase provides.
Exclusive material.
Contemporary style.
Sturdiness and visual lightness combined.
Possibility to customize the design.
Steps
---
Structure
AISI 304 stainless steel for indoor staircases.
Steel painted with oven-dried epoxy poweder for greater resistance to wear.
---
Railings
Acciaio inox AISI 304 o acciaio cromato
Measurements
Diameter:
120, 130, 140, 150, 160, 170, 180 cm
Rise:
Made to measure from 21 to 24 cm