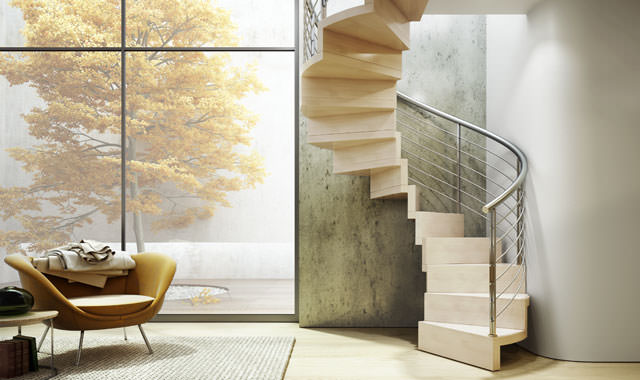 Spiral Aira
Style and personality
that mixes a minimal design
Spiral Aira is a wooden helical staircase perfect for modern and contemporary rooms.
What makes it different from other prefabricated helical stairs is that in this model tread and rise (both 6 cm thick) are firmly anchored to each other so as to create a structure that is visually light but very solid at the same time.
Quality and customization
The wood used for the tread and rise is solid finger joint beech wood and is available in various colors: from wood tones, realized with non-toxic, water-based coating, to lacquering, done using a system that includes polypropylene microspheres to improve the resistance of the surface to abrasion, UV rays and cold liquids.
Regardless of the chosen finish, what makes this wooden staircase unique is the effect obtained by combining wood, warm material par excellence, with the simple, linear shapes of the railing Prisma, anchored directly on the steps.
Safety guaranteed
Compared to prefabricated helical stairs, Spiral Aira can be supported by means of side hardware – if next to bearing walls – with tie rods to the floor or through the use of ground supports.
These anchors make that the staircase appear even more stable during use thus making Spiral Aira the perfect wooden staircase not only to look at but also to live.
Made to measure design.

Thicker step (6 cm).

Light and minimal design.

Different wood finishes available.
Steps, structure and handrail
Varnished beech wood – standard varnishes (water-based, non-toxic varnish).
Lacquered beech wood (microsphere painting to improve resistance to abrasion, UV rays and cold liquids).
Notes:
The finishes of step and handrail are always coordinated.
Other types of wood are available upon request.
---
Railings
Finishes for railings can be found in the related product sheets.
Measurements
Diameter (round or square hole):
140, 150, 160, 170, 180, 190, 200 cm
Rise:
adjustable, from 17 to 24 cm