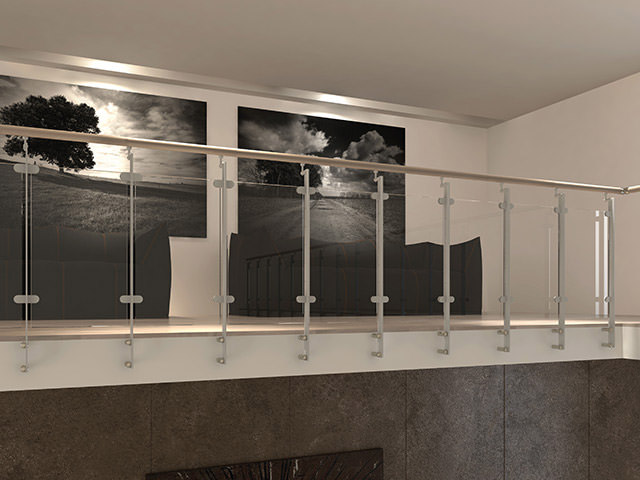 Zenith Plus
Transparent yet solid
An iron railing that is a mix of lightness and safety,
guaranteeing functionality in every situation.
Zenith Plus is the iron railing that combines visual lightness and safety to create a product where the transparency of glass and the strength of the posts offer high functionality and maximum furnishing freedom at the same time.
Sturdiness for private and public spaces
Zenith Plus was created as an evolution of the iron railing Zenith from which it inherits features like strength and resistance. The blades of which it is made up are exactly the same as those of its older sibling and they are made of strong steel, available in different finishes. Because of this, Zenith Plus can be installed both in private settings and in public places. The handrail is available in beech wood or steel.
Available with glass panels or steel wires
Compared to traditional iron railings, Zenith Plus offers more furnishing solutions. In fact, the posts can be connected either through stainless steel cables or through glass panels, or panels of other materials, with a thickness between 8 and 10 mm. This means that the railing can perfectly adapt to every solution.
The play of transparency and the minimal and rigorous line of the posts leaves maximum freedom to the Customer in whether to choose the railing as an element of design or to leave it as a functional piece in the background.
Ideal for both masonry and modular staircases
Zenith Plus is just as versatile from the anchoring point of view. The technical solutions adopted in fact allow you to create different types of railings on both masonry and modular stairs.
In the first case the railing can be fixed both on the step and on the side of the floor so as to satisfy various architectural requirements. In the second case, instead, the railing always has side anchors that fix it either to the structure or to the steps according to the features of the staircase.
The same anchors allow you to configure Zenith Plus also as a balustrade to ensure the same safety as well as unique visual consistency even on mezzanines or walkways.
Various finishes suitable for every type of environment
Compared to other steel railings, Zenith Plus has a wide range of customizable finishes that are well suited to any type of home décor as well as to the size of public spaces.
Metals
Steel painted with oven-dried epoxy powders for greater resistance to wear.
Glass
Location
Set up
All measurements are in millimeters

Wires ø 4 mm
Glass
Anchoring on brickwork stairs