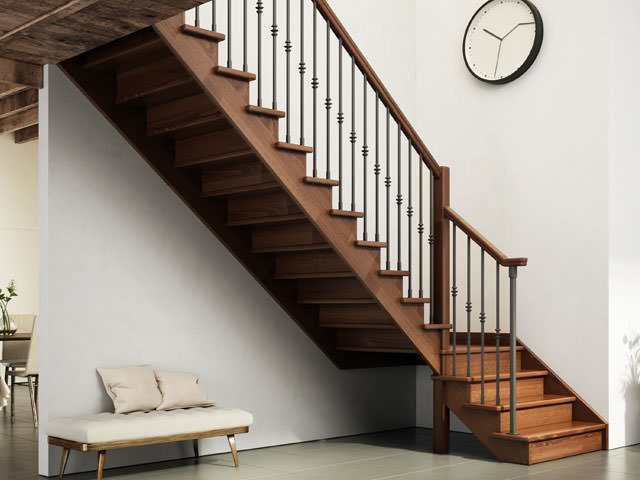 Gara
Timeless elegance
Indoor staircase in solid wood,
with a classic and elegant look.
Gara is an indoor wooden staircase, both traditional and classic. It is fully custom made, based on the features of the room in which it is going to be installed. The quality of the materials and the details, and the precise workmanship give it the look of a hand-crafted staircase.
Classic and elegant
Gara is composed by a double lateral structure in solid finger joint beech wood. Compared to classic wooden indoor stairs the two stringers have different shapes and technical features. The side wall structure has the shape of band while that on the outer side has the classic rack shape. This special feature not only gives the whole staircase great solidity as it allows you to create structural continuity, but it also accentuates the traditional character by creating a timeless wooden staircase.
The steps are 4 cm thick and are made of solid finger joint beech wood as is the handrail and all the pieces in wood.
Great care for details
Gara sets itself apart from most indoor wooden staircases thanks to its great elegance that stems from the quality of the materials used, from the care used during processing and from a few technical tricks. The radius steps soften the lines while the built-in anchoring of the steps in the stringer allows you to hide any hardware, ensuring clean lines.
Many opportunities to customize
Although it is a wooden indoor staircase with a traditional flavor, Gara allows various customization options. Starting from the finishes of the wood ranging from transparent to semi-opaque paint up to lacquering done with paints which contain microspheres that improve the resistance to abrasion, UV rays and cold liquids.
Various railing options available
Gara allows customers to choose among many railing options, from milled wooden posts to posts in turned wood, to shaped steel posts that allow you to give the staircase a rustic feel, or to enhance its value and elegance by inserting it in the category of indoor stairs in iron and wood. You can also close the rise with a panel coordinated with the steps and structure in order to use the space under the stairs, and comply with any regulatory requirement on safety.
Customized design.
Classic and elegant look.
Completely made in solid finger joint wood.
Radius step.
Built-in anchoring of steps.
Various wood finishes available.
4 different railings available.
Possibility to close the rise.
Steps, structure and handrail
Varnished beech wood – standard varnishes (water-based, non-toxic varnish).
Lacquered beech wood (microsphere painting to improve resistance to abrasion, UV rays and cold liquids).
Notes:
The finishes of step and handrail are always coordinated.
Other types of wood are available upon request.
---
Railings
Finishes for railings can be found in the related product sheets.
Possible configurations
Measurements
Width:
Possibility to have greater width upon feasibility check
Rise:
adjustable, from 17 to 24 cm, regular throughout the entire staircase
Tread:
Turns