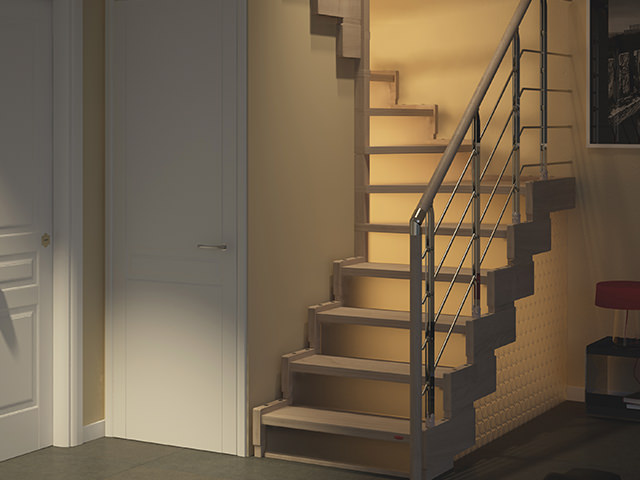 Passepartout
It doesn't take up space – it creates it!
Staircase for small spaces,
designed to rationalize space
and allow you to save some of it.
Passepartout is the staircase for small spaces that combines the functionality of the spiral staircase to the comfort of the open stairs, creating an innovative product that revolutionizes the way you design small spaces.
Greater comfort and safety even in small spaces
Passepartout is the indoor wooden staircase that can be installed in very small spaces usually destined to spiral staircases while offering greater safety and comfort than the latter. The square shape, which characterizes its design, allows you to use the available spaces rationally as it only takes up from a minimum of 120 cm to a maximum of 180 cm per side. The steps, made of solid finger joint beech wood (4 cm thick) are inspired by those typical of an open staircase with a regular shape. This allows you to increase the surface area of the tread compared to spiral staircases.
It doesn't take up space – it creates it
However, Passepartout does not limit itself to rationalizing space as does the majority of staircases for small spaces. Instead, it does much more: it allows you to use the space that would otherwise remain unused. Passepartout is in fact designed to allow you to best use the space under the stairs by closing the rise (with panels in flexi-glass or wood, both available as an accessory) and filling in the sides, obtaining useful space to create a closet, a wardrobe or even a small room, thus increasing the square footage of the living space and enhancing your house.
Functional and versatile
Compared to other stairs for small spaces, Passepartout represents a universal solution that can transform a problem of space into an advantage thanks to this wooden indoor staircase which, in addition to being functional, offers numerous possibilities of adjustment and customization thanks to its modular structure.
Great freedom of customization
The minimal and modern design of Passepartout, compared to that of other traditional indoor staircases for small spaces, fits into any décor thanks to the clean lines of elements and structure, made of solid finger joint beech wood, and to the ample opportunities to personalize it.
You can choose the color among different paint jobs ranging from transparent to lacquered, while maintaining the consistency of structure, steps and handrails. As far as the railings go, Passepartout gives the possibility to install several, all customizable when it comes to colors and fittings.
Greater safety and comfort even in small spaces.

It allows to better use the space under the stairs, in fact creating more space in the room.

Suitable to all architectural styles.

Numerous finishes available.
Steps, structure and handrail

Varnished beech wood – standard varnishes (water-based, non-toxic varnish).
Notes:
The finishes of step and handrail are always coordinated.
Other types of wood are available upon request.
---
Railings
Finishes for railings can be found in the related product sheets.
Possible configurations
Measurements
Diameter:
120×120, 130×130, 140×140, 150×150, 160×160, 170×170, 180×180 cm
Turns: